Welcome Aboard!
Our mission is to support, educate and promote the use of hovercraft for a wide variety of tasks including; sight-seeing tours, hovercraft orientation flights, specialized cargo and commercial services, support for marine-based research, photography, Search & Rescue and survey work. Hovercraft can operate on inshore waters, rivers, marshes and tidal flats as well as on ice, flooded land and any sensitive surface that requires no wake and a minimal footprint. The craft fully loaded can have a lighter footprint on the surface than a person walking so the likelihood of damaging a sensitive surface is greatly reduced.
Vancouver Island Hovercraft tours - We have used our craft to tour many beautiful areas of the west coast including the southern Southern Gulf Islands. Quadra and Cortes Islands as well as the Fraser and Harrison rivers. From our travels we have experienced excellent hospitality and have a few recommendations for you. For a trip to the southern Gulf Islands we recommend the Mayne Island Resort (a great place, nice view, good food) and as well as visiting Cabbage Island Marine Park that
has fantastic landing beach for hovercraft and awesome scenery. Along the way we also recommend stops at the Port Browning Marina on North Pender Island and a visit to the Japanese Gardens in Dinner Bay on Mayne Island. A trip through The Pender Canal is also something to experience as it running the rapids through Boat Pass in Winter Harbour (Saturna Island) . A little farther to the north you will find great boating and sightseeing around Thetis Island and Ladysmith. Be sure to visit the friendly folks at the Ladysmith Martime Society Community Marina as well as venture into the Town of Ladysmith which features a historic downtown, wonderful shopping and dining opportunities and a top-rated bakery. If you are venturing over to Thetis Island, the local pub has food and fuel as does the Telegraph Cove Marina. Be sure to go for a dinghy ride through "The Cut" but watch the tides as it can get very shallow there. Of course, we navigate these waters in a hovercraft so our recommendations are for information only and we strongly recommend that boaters prepare and navigate these areas safely and within the capability of their vessel and crew.
Check-out some of the pictures and videos from our tours on our facebook page.
LMS Heritage Boat Festival and Children's Pirate Day.
The annual Heritage Boat Festival at the Ladysmith Community Marina is on Saturday, May 27th from 10 am – 4 pm, and will feature over 2o heritage vessels from all over the west coast. These are incredibly beautiful and well maintained examples of our ocean going history on the west coast.
This event is open to the public and includes free Harbour tours on Maritimer, and many new exhibits of maritime art. Speak with captains of the 20 heritage vessels dockside and learn about these beautiful boats. Meet members of the local Coast Guard and take a ride on one of their newest hovercraft.
Kids Pirate Day is Saturday, June 3rd, 2017 from 10 am – 4 pm at the Ladysmith Community Marina – admission is FREE!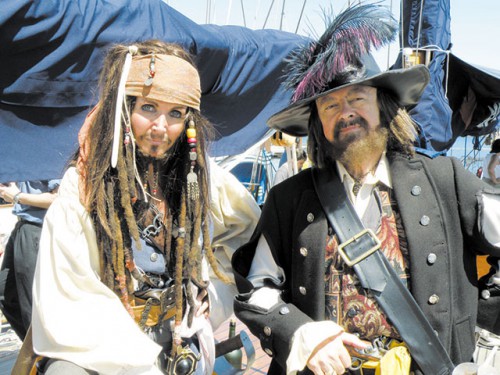 Want to see our latest activities, special events and offers? Find us on Facebook Vancouver Island Hovercraft (eco-tours) or click on this LINK.
Home Port and Local Waters
Our homeport is the picturesque seaside town of Ladysmith, BC. Our tours explore the beautiful waters and breath-taking landscapes of the Gulf Islands.
Our Vessel
Our vessel is a Sevtek Vanguard AM14 Hovercraft built by Amphibious Marine in Shelton Washington. The AM14 is a safe, reliable and comfortable vessel capable of operating in a wide variety of conditions.
A Hover-tour passenger comments on her tour experience:
"The agility and speed of the hovercraft were impressive, along with the fact that we could go where no other water craft would dare venture... a mere push of a button and we were up and running/flying/sailing again – hard to know how to describe it, but it was amazing". - Shirley
Need to get in touch with us?
We would love to hear from you. Email us at:
info@vancouverislandhovercraft.com
Call us at 250 715 6757
For more pictures visit us on flickr